Safer roads - A592
In Summer 2018, the Council were granted £7.4 million from the Department for Transport (DfT) to upgrade and improve the safety of the A592 from Windermere to the A66 near Rheged.
Since 2018, the Council has undertaken extensive survey works on the A592 route to identify where and how best to invest the funding in the highway and to improve road safety.
Following design development work, a number of individual resurfacing schemes have now been completed in 2022, including the latest work from Brackenrigg to Waterfoot Junction which will now be completed late January 2023 owing to poor weather conditions.
Kirkstone Pass works
The next key stage of work on the A592 route between Windermere and Rheged will be the works on Kirkstone Pass. These are planned to commence in early February 2023 and are expected to last for over 12 months with completion programmed for March 2024. This is by the far the most challenging aspect of the planned work on the A592 owing to the location, the geography, the steepness of the route and the susceptibility to weather conditions.
The duration and timescale for completion of all the proposed works on Kirkstone Pass takes account of the scope, the scale and complexity. The planned completion date will also be subject to the progress made and not being significantly affected by adverse weather. Further details are provided in frequently asked questions and points below.
The below maps highlight the location of the planned work:
Image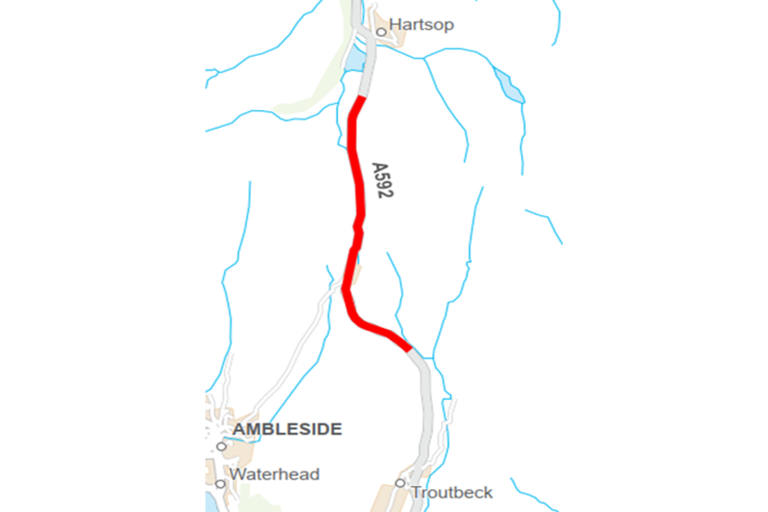 Scheme extent using what3words:
Start of A592 works (north end): Brother's Water: desktop.activates.risks
End of A592 works (south end): Hird Wood: sapping.pinches.myth
Frequently asked questions and points
A592 Kirkstone Pass - Patterdale to Troutbeck FAQs (PDF 250KB)
Road closure dates:
Dates
Duration
Temporary Traffic Management Arrangements (including planned works)
13/02/23 onwards
3 weeks
Daytime Traffic Signals
(CCTV surveys, drain repairs, retaining wall repairs, new signs, carriageway haunching + other works)
06/03/23 onwards
4 weeks
Full Road Closure No. 1
(new drainage crossings and associated works, carriageway resurfacing works, boundary wall repairs)
05/06/23 onwards
4 weeks
Full Road Closure No. 2
(safety barrier works)
03/07/23
Approx. 2 weeks
Overnight road closures from 9pm until 7am
02/10/23 onwards
3 weeks
Full Road Closure No. 3
(carriageway reconstructions and patching)
01/03/24 onwards
4 weeks
Full Road Closure No. 4
(carriageway surfacing and reinstatement works)
30/10/23
Approx. 3 weeks
Overnight road closures from 9pm until 7am
06/12/23
Approx. 2 weeks
Overnight road closures from 9pm until 7am
03/01/24
Approx. 2½ weeks
Overnight road closures from 9pm until 7am
A592 Temporary diversion route: (during both the full road closures as well as overnight road closures)
Image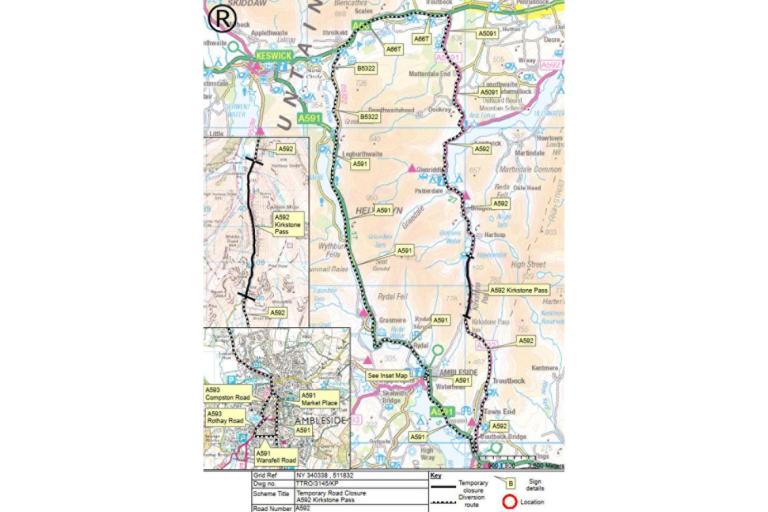 Kirkstone Pass A592 safer roads improvements update - June 2023 - YouTube